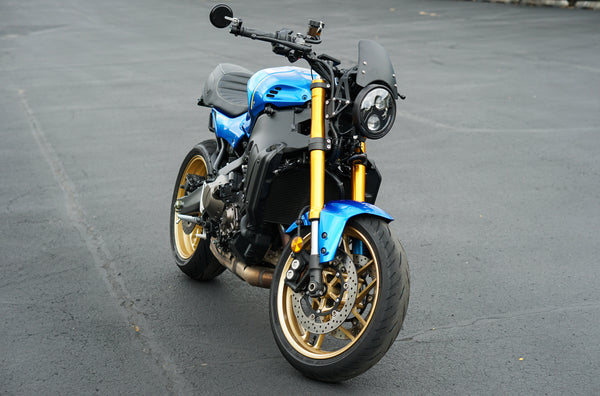 XSR900 Headlight Kit - 2022+
A complete plug and play headlight setup for your 2022+ XSR900.
View our installation video on YouTube
Fitment - 2022 + ONLY
What's Included
Machined headlight support adapters.

Machined headlight brackets.

Machined Brogue Collective Headlight housing with your choice of LED headlight (fully assembled). LED's come pre-wired with OEM connectors complete with our control relay.

Includes all required hardware.

Options to add Pre-wired turn signals and side turn plugs. This allows you to relocate your turn signals from your radiator guards to your headlight brackets.   

Option to add a Brogue Windscreen and brackets.   
Option 1 - Complete kit with JW Speaker 8700 EVO 2 Dual Burn 7" LED - DOT Compliant
Dual burn technology provides the rider with the spread of the low beam and the punch of the high beam simultaneously
Premium performance high-output LEDs
Superior energy efficiency, safety and durability
1260 lumen output (high beam), 750 lumen output (low beam)
Option 2 - Complete kit with JW Speaker Model 8790 Adaptive 7" LED - DOT & ECE Compliant
The 8790 Adaptive 2 Series headlights have been improved to feature Adaptive technology when using the high beam, in addition to the low beam. Providing ditch-to-ditch lighting to eliminate dark corners on sharp turns and a punch of light 1,500 feet down the road to give you a safer and more confident ride to master the corners.
Improved to feature adaptive technology with the high beam, in addition to the low beam

On-board intelligence senses leaning angles when cornering to control light

Dynamically fills in dark areas while turning

Breakthrough improvement in visibility and safety.