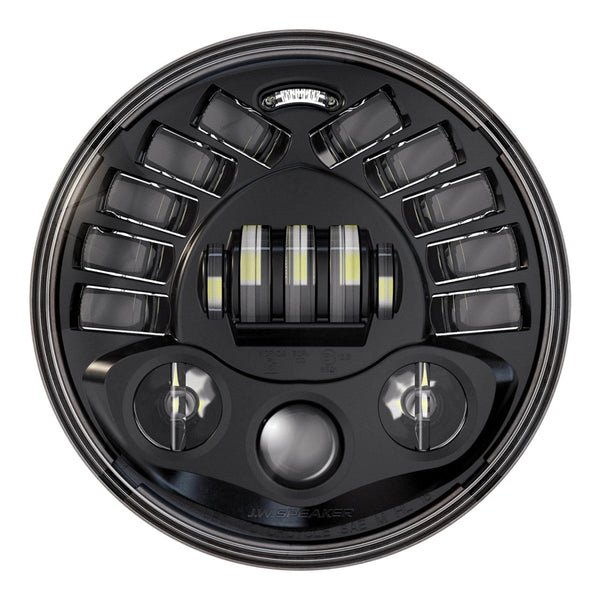 XSR700 7" LED Shallow Bucket Headlight Kit 2022+
Brogue Motorcycles XSR700 7" LED Shallow Bucket Headlight Kit
 What's included
Matte black headlight bucket & bezel (now powder coated).

ABS spacer, which comes pre-installed between the LED and headlight bezel.

Headlight brackets; pick between our 2D brackets or upgrade to one of our machined aluminum versions. (Note: 2D brackets are coated in matte black powder and machined versions come in a hard anodized matte black finish).

LED lights come pre-assembled with all the associated hardware to complete the installation.
For 2022 Plus models, you'll have to remove all the plastic bits and install our fork clamps (included in our 2022 plus kit). We also wire in our own relay circuit which will allow you to run an aftermarket LED (included and prewired into each headlight assembly).

Fitment - 2022+
For 2016-2021 models, please click here.
Option 1 - Complete kit with JW Speaker 8700 EVO 2 Dual Burn 7" LED - DOT Compliant
Dual burn technology provides the rider with the spread of the low beam and the punch of the high beam simultaneously
Premium performance high-output LEDs
Superior energy efficiency, safety and durability
1260 lumen output (high beam), 750 lumen output (low beam)
Option 2 - Complete kit with JW Speaker Model 8790 Adaptive 7" LED - DOT & ECE Compliant
The 8790 Adaptive 2 Series headlights have been improved to feature Adaptive technology when using the high beam, in addition to the low beam. Providing ditch-to-ditch lighting to eliminate dark corners on sharp turns and a punch of light 1,500 feet down the road to give you a safer and more confident ride to master the corners.
Improved to feature adaptive technology with the high beam, in addition to the low beam
On-board intelligence senses leaning angles when cornering to control light
Dynamically fills in dark areas while turning
Breakthrough improvement in visibility and safety
Note: Options 1 and 2 come pre-assembled.