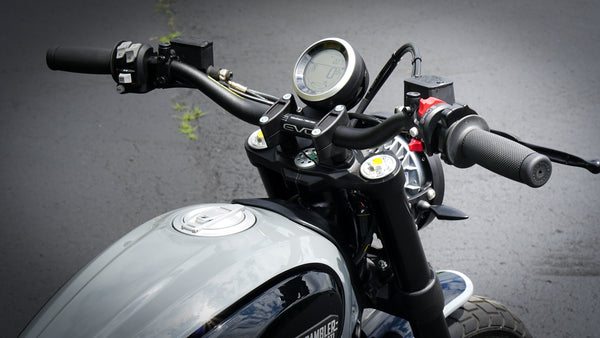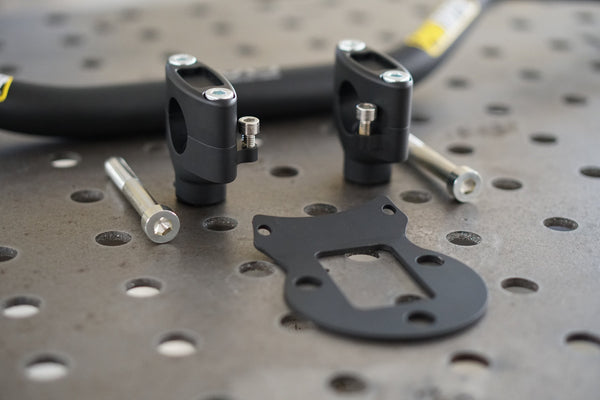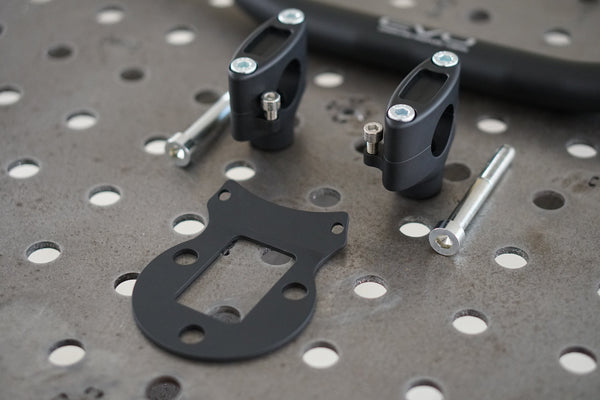 Ducati Scrambler Ignition + Gauge Relocation Builder Kit
We've taken the guesswork out of modifying the control area of your Ducati Scrambler. Backed by popular demand, we have now further sectioned out our Complete Scrambler Kit. 
Note - Fitment related to other vendors products is purely up to you. Please read and understand all options below.

What's Included

Option 1 –
Brogue Machined Ignition Relocation Bracket
(2) M5X16MM 90 deg Countersunk Bolt
(1) M6X12MM Socket Bolt
(1) M6X16MM Socket Bolt
(2) M8 Lock Nut
(2) Black Spacer OD ½ ID .319 Length 3/8
(2) M8X40MM Socket Bolt
Brogue Ignition Extension Harness
Brogue Horn Relocation Bracket


Option 2 -
Brogue Machined Handlebar Risers
(4) M8X30 Cap Bolt
(2) M10X80MM Cap Bolt (custom machined)
Designed to fit 1" Handlebars. Sold Separately.

Brogue Gauge Relocation Bracket
(2) M6X12MM Cap Bolt

Brogue Machined Ignition Relocation Bracket
(2) M5X16MM 90 deg Countersunk Bolt
(1) M6X12MM Socket Bolt
(1) M6X16MM Socket Bolt
(2) M8 Lock Nut
(2) Black Spacer OD ½ ID .319 Length 3/8
(2) M8X40MM Socket Bolt
Brogue Ignition Extension Harness
Brogue Horn Relocation Bracket

Fitment

Icon 2015-2022
Nightshift 2021-2022
Urban Motard 2022-2022
Mach 2.0 2018, 2019
Street Classic 2018-2020
Desert Sled Enduro 2018-2022
Full Throttle 2018-2022