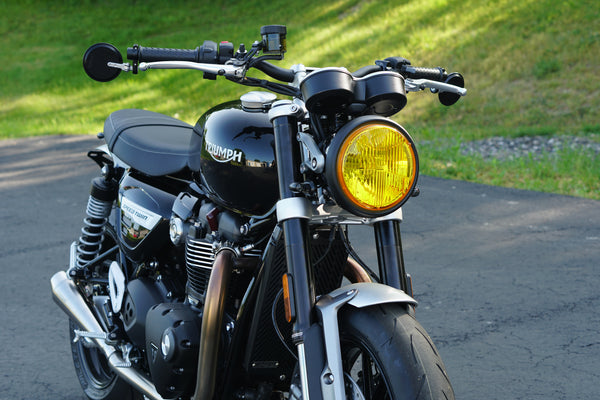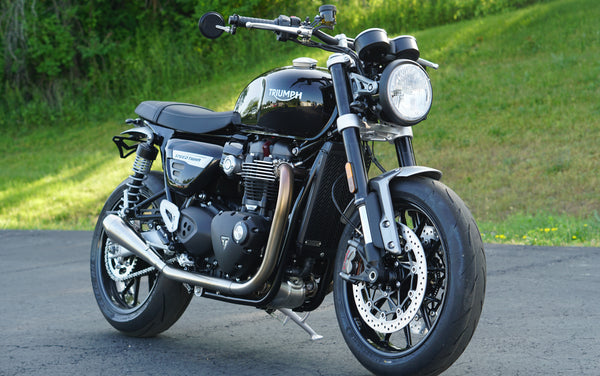 Brogue Moto Retro Inspired Triumph Modern Classic 7" LED Headlight Kit - 2016+ Thruxton - Scrambler - Bonneville T100 - T120 - Speed Twin - Street Twin
In Collaboration with A & J Cycles, we've created a Retro Inspired Modern Classic 7" LED Headlight Kit that keeps the classics look while increasing light output.
Each kit comes with a CNC cut ring that's brushed on one side and laser annealed black on the other. You can simply flip the ring for a raw brushed look or install the laser annealed side up for a completely blacked out appearance.

A simple plug & play installation that includes everything needed to get the job done.

What's Included-

Brogue CNC cut adapter ring
Six spring clips
Prewired retro inspired LED

-Installation Notes-
All six provided retaining clips MUST be installed along with the three stock clips.
Option 1 - Complete kit with YELLOW Retro Inspired Modern Classic 7" LED

- Retro-styled headlight for period-correct appearance
- Over two times the light output of halogens for better visibility
- Less current draw and six times the lifespan of halogen-sealed beams
- No-glare beam pattern
- Meets or exceeds SAE and DOT Requirements
- Replaceable LED cartridges for easy serviceability
- UV-treated polycarbonate lens that won't shatter
- Ten times stronger than glass or standard plastic
- Special PWM LED driver keeps LEDs running at peak intensity
- 5700K color temperature for modern-looking lighting
- 2,000 lumens (low) and 3,000 lumens (high)
- Cast aluminum material
- 25-watts (low) and 30-watts (high)
Option 2 -  Complete kit with CLEAR Retro Inspired Modern Classic 7" LED

- Retro-styled headlight for period-correct appearance
- Over two times the light output of halogens for better visibility
- Less current draw and six times the lifespan of halogen-sealed beams
- No-glare beam pattern
- Meets or exceeds SAE and DOT Requirements
- Replaceable LED cartridges for easy serviceability
- UV-treated polycarbonate lens that won't shatter
- Ten times stronger than glass or standard plastic
- Special PWM LED driver keeps LEDs running at peak intensity
- 5700K color temperature for modern-looking lighting
- 2,000 lumens (low) and 3,000 lumens (high)
- Cast aluminum material
- 25-watts (low) and 30-watts (high)
Fitment
Bonneville T100 (2017-2023)
Bonneville T120 (2016-2023)
Scrambler 900 (2023+)
Street Cup (2016-2019)
Speed Twin 900 (2023+)
Speed Twin 1200 (2019+)
Street Scrambler (2017-2023)
Street Twin (2016-2023)
Thruxton R (2016-2023)
Thruxton RS (2020-2023)
Thruxton 1200 (2016-2019)