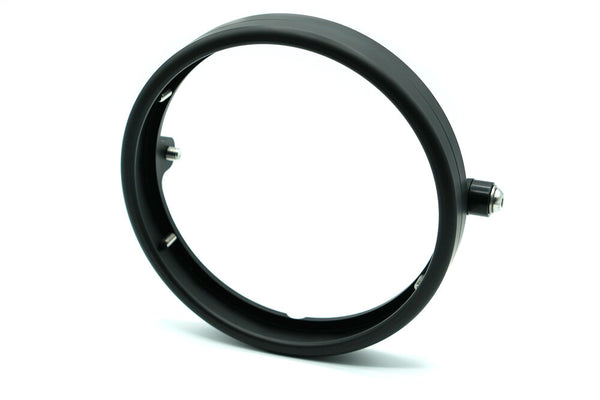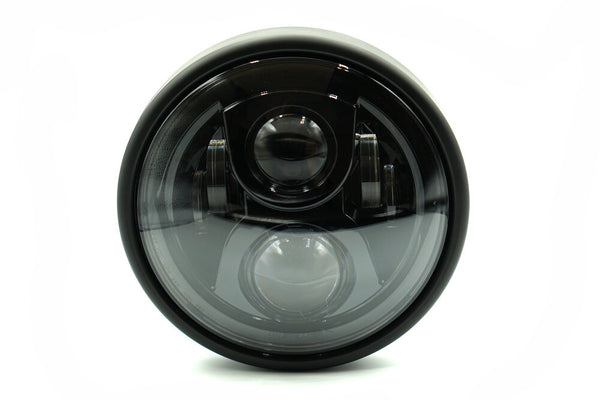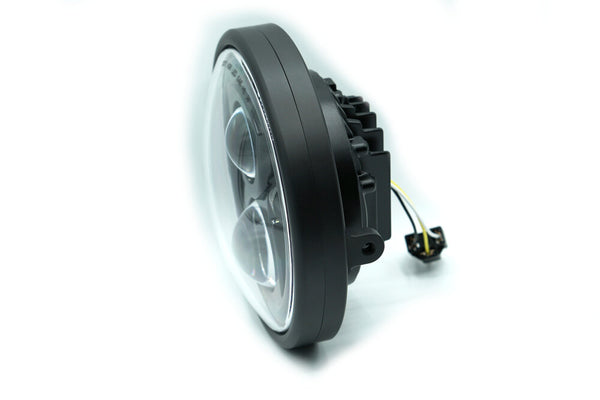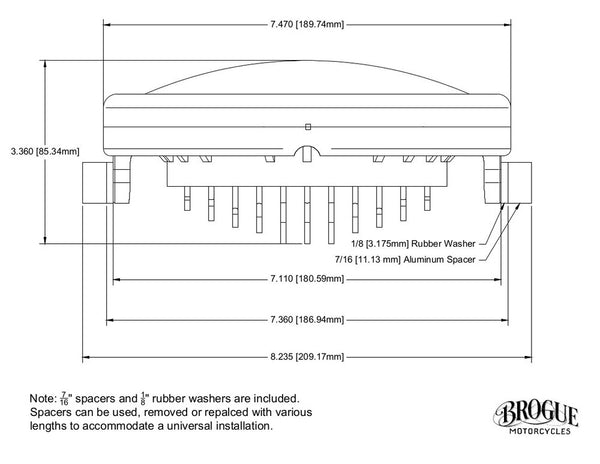 Brogue Collective - 7" Naked Headlight
Brogue Collective Universal 7" LED headlight kits are a complete plug and play solution.
Our proprietary threaded design allows for a slim and sleek profile compared to other options on the market, and can be mounted to virtually any motorcycle. Another unique design straight from our hands to yours!
Be sure to check out our product dimensions and view our assembly guide on YouTube.
What's Included
Brogue Collective - machined 7" LED naked motorcycle headlight holder in a matte black finish (type III anodized hard coat).

Two ABS spacers, which covers installs for most 7" LED's on the market.

Pick between our "Builder Kit" or one of our "JW Speaker" options.

LED complete kits come pre-assembled with premium stainless steel hardware, spacers, and all the necessary goods to complete a successful installation.
All kits include stainless hardware, rubber isolation spacers, and machined anodized spacers. Check product dimensions for more details.
Note: Headlight brackets ARE NOT included.
Option 1 - "Builder Kit" everything but the LED light.
It's up to you to do rest and complete the install but we provide everything else needed to get the job done. Builder kits DO NOT include an LED light.
Note: Options 2 and 3 come pre-assembled, wired, and loomed for a simple bolt on installation.
Option 2 - Complete kit with JW Speaker 8700 EVO 2 Dual Burn 7" LED - DOT approved - Black finish
Model 8700 Evo 2 Dual Burn (DOT version). U.S. DOT-compliant guarantees that your lights are legal on the road.
Bezel Color - Black
Back Heatsink Casting - Black
Option 3 - Complete kit with JW Speaker Model 8790 Adaptive 7" LED - DOT & ECE approved - Black finish
The 8790 Adaptive 2 Series headlights have been improved to feature Adaptive technology when using the high beam, in addition to the low beam. Providing ditch-to-ditch lighting to eliminate dark corners on sharp turns and a punch of light 1,500 feet down the road to give you a safer and more confident ride to master the corners.
Improved to feature adaptive technology with the high beam, in addition to the low beam

On-board intelligence senses leaning angles when cornering to control light

Dynamically fills in dark areas while turning

Breakthrough improvement in visibility and safety
Bezel Color - Black
Back Heatsink Casting - Aluminum Finish (coated for corrosion protection)